Dry lining is a popular way of adhering plasterboard to surfaces including masonry, wood or metal. Fixings are used which are appropriate to the surface the plasterboard is to be attached to. We also dry-fix various plasterboard types (depending on the specification) onto timber or metal stud walls and ceilings using collated drywall screws
Once the plasterboard has been adhered or fixed, we can then apply a finish plaster or tape and joint it, in readiness for other trades to complete the project.
The Benefits of Dry Lining
Fixing or adhering plasterboard to internal walls is a quick and clean method of speedy programme time, so there are commercial benefits to taking this approach, to both the client and the main contractor.
There are different types of plasterboard used to meet building regulations.
Acoustic board comes in an array of thicknesses depending on the building regulations to be meet. This application is also used in conjunction with both sound-deadening insulation and Resilient Bar to provide a sound proof room.
Gypframe Sound Insulating Bars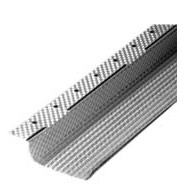 Specially engineered products used to optimize acoustic performance in wall and ceiling systems (RB1) where they are also used to eliminate nail popping (RB2).
Moisture resistant plasterboard is used in areas where moisture needs to be controlled and building regulations need to be meet.
Fire resistant boards are available various thicknesses to suit your needs to meet current building regulations.
Standard wall boards are used in general applications with basic requirements. For example, between standard stud walls, where no specific fire or sound-proofing regulations apply.
Duraline plasterboard is high impact resistant plasterboard and only comes in 15mm thickness. This is generally used on partitions and walls where there is a higher risk of impact. These help protect corridors and similar environments.
Types of Buildings Which Benefit From Dry Lining
We are able to work on commercial new build and refurbishments which require the use of dry lining and carry out all other aspects of commercial plastering.
Please contact us for further details.