Traditional rendering application using Sharpe sand, cement and lime, rubbed up with a traditional finish, including ashlar renders, exterior mouldings and cornice for traditional, period or listed buildings. All of which requires ongoing decoration after completion of the project.
Heritage Lime Rendering and Period Restoration
These systems are suitable for heritage applications and are used in restoration of listed or period buildings. Pre coloured and can be finished in different traditional finishes.
HPS Plastering Ltd are approved and recommended applicators for all the major BBA accredited external insulated render, lime renders and rendering systems manufactures in the UK and Europe. We are using the very latest technology, with ongoing training as working practices in industry dictate; all of our applicators are fully experienced, qualified, and trained.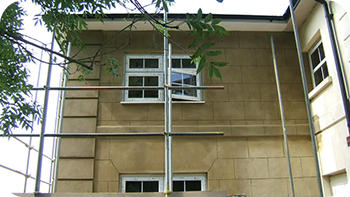 Lime Renders
Lime renders also allow the building to "breathe" and are usually specified on renovation and restoration of period properties and listed buildings, coupled with traditional construction methods and specialist techniques; we can restore your building.
HPS Plastering Ltd has been involved with the restoration of historical building renovations through the years, where lime based renders were used to meet demands of the conservation officer. With specialist techniques, we can restore your building back to its original former glory with a stunning looking new facade.
We have been involved in a number of conservation or period built buildings and we are aware that some properties are not suitable for the application of cement-based renders. It is very important that if they have been constructed using lime based mortars, a suitable lime based render must be used to allow the building to breath.
We have a huge range of Lime products and substrate stabilisation base coats to choose from and all of them are suitable for heritage applications and applied in a modern way with a machine application, using traditional methods to finish the substrate application with delightful results. The final appearance and finish is very similar to that of monocouche renders and also comes as through-coloured pre-mixed render for colour and texture consistency and speed of application to the substrate. A number of finishes and textures are available in the heritage range of lime renders section. Finishes include traditional rubbed up, fine scrapped, smooth spray textured, spray textured and towelled smooth.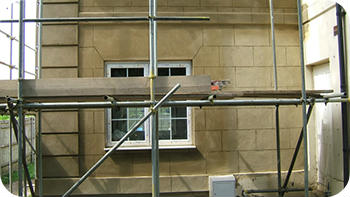 Please contact us for further details.