HPS Plastering Ltd will provide a free consultation to take all our clients through the process. We will guide you through the benefits of internal wall insulation and which government funds are available. For a competitive survey and project costs contact us to discuss your requirements.
Internal Wall Insulation adds insulation to the inside external walls of a property to provide the required current building regulations UV Values are met. With solid wall constructions up to 45% of heat can be lost increasing home owners energy bills around £500 per year.
Internal Wall Insulation is a cost effective way of providing precious insulation to properties which may be cold and do not meet current building regulations. It is also ideal for properties that are in conservation areas that may not be able to benefit from external wall insulation. Once the insulation has been installed and a plaster finish applied, the homeowner will be able to benefit from reduced energy bills as the heat does not escape through walls.
For the public sector, we aim to be regarded as the leading specialist in Internal Wall Insulation Systems, in community regeneration and social housing, by offering outstanding quality, cost effectiveness, aligned with added value from our partners.
Spray Application Plastering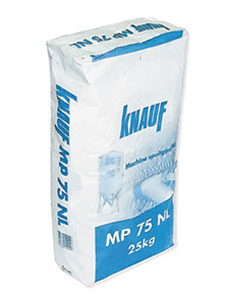 HPS Plastering are approved applicators for Knauf MP75 and are skilled technicians in the spray application techniques of projection plastering.
Spray plastering is suitable for all substrate surfaces including drywall, in-situ concrete, concrete block, brickwork and existing plaster finishes.
Knauf MP75 Projection Plaster
Knauf MP75 is a one-coat plaster specifically designed for machine application. It can be applied up to 20mm thick in one application. Suitable for use directly onto blockwork, uneven in-situ concrete or thin joint blockwork, Knauf MP75 has a drying time of 3-4 hours and provides a tough and durable smooth white surface ready to receive a decorative finish.
When machine applied, Knauf MP75 offers excellent productivity and is up to 3 times faster than traditional plastering methods. It can also be hand applied.
Benefits of using Knauf MP75 Projection Plaster
The system is cost effective, saving time and waste
Europe's number one seller
Using pure gypsum combines excellent workability and strength with a superb white finish
Faster than traditional systems, saving weeks on the plastering of large projects
Please contact us for further details.